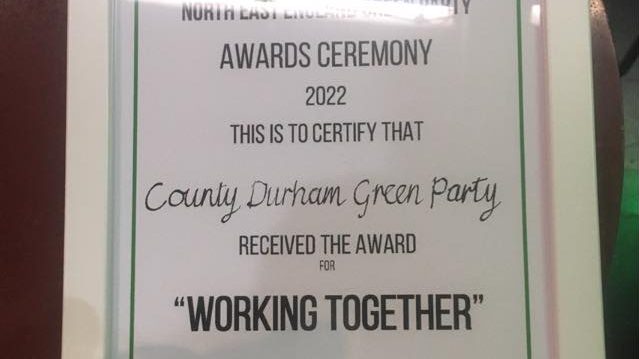 We've won an award!
County Durham Greens have won the 'Working Together' Award in the annual Green Party Regional Awards at its AGM.
A panel of judges gave us the award in recognition of our generosity in helping other local Green Party branches, particularly Sunderland, in the run up to May's local elections.
The nomination by Sunderland Green Coordinator Auburn Langley read:
"On many of our short campaign action days we had just as many Durham members assisting with the campaign as we did Sunderland members - sometimes even more.
"Without their efforts we would not have covered the ground that we did and I am very grateful for their support. They came to our events, worked hard, followed instructions and contributed to our campaign, knowing full well we were a small team not likely to win, which makes their support even more special.
"Their actions inspired our team to work harder and brought our core campaign together, knowing that we aren't fighting this campaign alone."